Google is the name most associated with the internet when it comes to using it. Therefore, it makes sense to consider using Google for this service when building your website by registering a domain name. Google Domains is a good option if your demands for domain name registration are simple. Therefore, we will discuss Google Domains Review thoroughly here.
However, its pricing is slightly higher than other domain name registration providers. In addition, it is challenging that Google Domains does not directly offer web hosting services if you wish to buy domain names and hosting simultaneously.
We go over the specifics of Google Domains, how to use it, and if the service is an effective alternative for other, more reputable domain registrars currently available.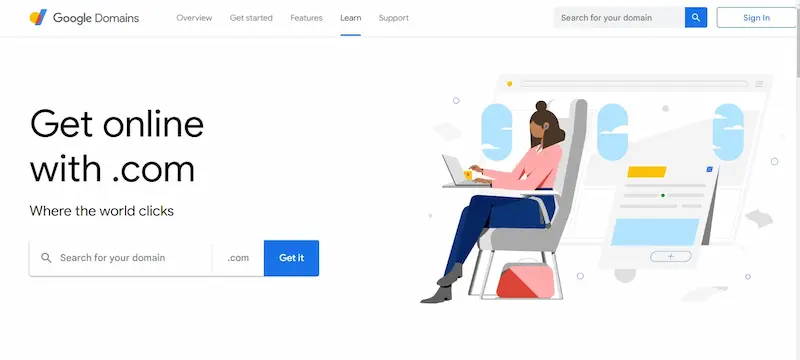 Google Domains offers an easy way to register a domain name or transfer an existing one, like other domain registrars. With your newly acquired web address, you can launch websites, set up customized email accounts, link them with external services, and more.
Features of Google Domains
Google Domains offers a range of features that make registering and managing your domain name easy. Some of the key features include:
Domain registration process
Google Domains makes it easy to search for and register a domain name. You can search for available domains, purchase the domain you want, and manage your domain all from within the Google Domains platform.
Domain management dashboard
Once you have registered your domain, you can manage it from the Google Domains dashboard. For example, you can update your contact information, set up DNS records, and view your domain's expiration date.
Domain privacy protection
Google Domains offers domain privacy protection to keep your personal information private. For example, this feature hides your contact information from the public WHOIS database, protecting you from spam and identity theft.
With Google Domains, you can create custom email addresses using your domain name. This is a great way to create a professional email address for your business or brand.
Google Domains makes it easy to manage your DNS settings. You can add or edit DNS records, set up subdomains, and manage your domain's DNSSEC settings.
Integration with other Google services
You can easily integrate your domain with these services using other Google services like G Suite or Google Cloud. This makes it easy to manage all your online assets from one place.
Pricing and Plans for Google Domains
Google Domains offers competitive pricing for domain registration and management services. Here is an overview of their pricing structure:
Google Domains offers domain registration for various domain extensions, including .com, .net, .org, and many others. Prices vary depending on the extension but typically range from $10 to $50 annually.
If you already have a domain registered with another provider, you can transfer it to Google Domains for a one-time fee of $12.
Domain privacy protection
Google Domains offers domain privacy protection for an additional fee of $6 per year.
You can set up email forwarding for your domain for free, which allows you to forward emails sent to your domain to another email address.
Using G Suite for your business email and productivity needs, you can integrate your domain with G Suite for an additional $6 per monthly user.
Advantages of Google Domains
As Google Domains charges you a transparent fee, it is simple to understand how much you will pay for the domain name you want to register. Your choice of domain ending determines how much it costs. 
The nominal fee that ICANN (Internet Corporation for Assigned Names and Numbers) applies for tracking domain name registrations is an example of a hidden cost that Google Domains does not include in its prices and that you will only be made aware of once you complete your purchase. 
It is possible to acquire additional services through Google Domains, which may confuse the price plan. However, unlike other registrars, Google Domains pricing for just buying the domain name registration is quite simple.
Google is known for being exceptional at accessibility. Few would argue combining robustness and simplicity has distinguished Google's sets into various online services. In terms of Google Domains, this is typically accurate.
The only challenges encountered when undertaking tasks other than domain management. You can only do something else with your domain as long as it is claimed. It is accurate that Google makes integrating your domain with other hosting or website builders quite simple.
Two-factor Authentication (2FA)
You must protect your account with your domain registrar since bad actors would do anything to obtain your domain names.
This is simple to accomplish with Google Domains because you can access all Google 2-Step Verification solutions. Text messages, smartphone applications, physical keys, and more are all options.
Google-Powered DNS Servers
You may utilize the same DNS servers that Google employs for the Google Domain search engine when you use Google Domains to register your domain. Again, this demonstrates how dependable and quick the DNS servers are. 
Google Domains offers one of the best free benefits compared to other domain registrars. However, some people could charge you extra for premium DNS server access for your website.
When registering a domain name, you must enter your data, such as your name, address, and phone number. Unfortunately, by default, the Whois registry makes all of this information accessible to the general public, leaving you exposed to spam and other bothersome/malicious behavior.
By hiding your information behind general privacy information, privacy protection modifies that. As a result, you will frequently be charged for privacy protection by domain registrars, sometimes up to $10 annually. In contrast, Google Domains offers free privacy protection as part of your purchase.
Google Domains allows you to create up to 100 email aliases that you may send to your current email accounts, like Gmail if you want to take advantage of your unique email address (like you@yoursite.com).
Or, even though Google Workspace requires a separate fee, it is straightforward to connect Google Domains to it for email hosting.
Verification Automatically Using Other Google Products
You must almost probably authenticate your website with several Google products if you run a website. Verifying your site with Google Search Console is the most common, but other services, such as Google App Engine and Cloud Run, are also available.
However, if you register your name with Google Domains, Google can instantly verify it with those properties, saving you some time and work.
You can assign different persons responsible for managing domain names within a company. You can automatically accomplish this with Google Domains by giving administrative access to other Google accounts.
Registration for Several Domains
On Google Domains, you can register many domains simultaneously. Customers who own trademarked names and want to protect them from domain name infringement are interested in this functionality. Simply register your registered trademarked name across many domain extensions.
Over the years, Google has developed a bad reputation for poor customer service, but it is improving. For example, Google now provides email and live chat help at all times for its domain name service.
Disadvantages of Google Domains
According to this Google Domains, unlike several competitors, Google Domains does not provide discounts for paying for several years in advance or for the first year. Instead, look for a registrar that offers significant discounts to new clients if you only want to test out a domain for a low first-year charge to see if it takes off. 
When you buy their web hosting services at the same time you buy the domain name, some rivals even give you a free domain name for the first year. Unfortunately, this choice is Google Domains promo code is unavailable here because direct web hosting services are unavailable.
Not as Many Shorter Extensions
Google Domains' support for over 100 domain extensions supports all common alternatives. Even more is supported by other domain registrars, though. For instance, Namecheap provides 400+ extensions.
Does this distinction even matter? Not for the majority of people since most people will buy a popular domain extension (which Google Domains supports).
However, you might need to look elsewhere if you are looking for something "out there," like a .vodka domain name.
Unlike a few of the best domain registrars, Google Domains does not provide web hosting services directly associated with its domain name registration procedure. You can buy web hosting via a third-party partner rather than from Google Domains. You may not like the additional complexity this adds to constructing your website.
Not Accessible Everywhere
You must have a billing address for Google Domains appropriate for one of the roughly two dozen supported countries. You can only use Google Domains if you live in a country with a support region member. 
Some countries not included in the list of accessible, supported countries by Google Domains include Portugal, Finland, South Korea, Switzerland, and Austria.
How to Move a Domain Name to Google Domains
If registered there, you can move your domain from another domain registrar to Google Domains. The same steps must be taken with the registrar where your domain name is now registered. Otherwise, the process is similar.
Open your Google Domains dashboard and select the Transfer tab to begin going. 

Enter the domain name you want to move after that.

With the help of a step-by-step wizard, Google Domains will automatically determine where your domain name is presently registered and will walk you through the transfer process:

Once the transfer is complete, you will have the same control over your domain name as if you had registered it directly through Google Domains.
Security and Privacy of Google Domains
Regarding domain registration and management, security, and privacy are important considerations. Here is how Google Domains addresses these concerns:
Google Domains uses advanced security measures to protect your domain name and personal information. They offer two-factor authentication, which adds an extra layer of security to your account. They also use industry-standard encryption to protect your data.
Google Domains offers domain privacy protection for an additional fee of $6 per year. This service hides your personal information from the public WHOIS database, protecting you from spam and identity theft. Additionally, Google Domains is committed to protecting your privacy and will not share your personal information with third parties unless required by law.
Google Domains also supports DNSSEC (Domain Name System Security Extensions), which adds an extra layer of security to your domain name by verifying the authenticity of DNS data. This helps prevent DNS spoofing attacks and ensures that visitors to your website access the correct server.
Customer Support by Google Domains
Google Domains offers a range of customer support options to help you with any issues or questions. Here is an overview of the support options available:
Google Domains has a comprehensive help center with articles, tutorials, and FAQs on various topics. You can search for articles based on keywords or browse through the categories to find the information you need.
If you cannot find the answer to your question in the help center, you can contact Google Domains support via email. They typically respond within 24 hours and provide helpful and detailed responses.
Google Domains also offers phone support for urgent issues. You can call their support team and speak with a representative to get help with your issue.
Google Domains has an active community forum where users can ask questions, share tips, and provide feedback. The forum is moderated by Google Domains staff and is a great resource for getting help from other users.
You can also contact Google Domains via social media channels like Twitter or Facebook. They are responsive on these platforms and will help you with your issue.
As a domain registrar, Google Domains is generally effective. However, given that it is only accessible in a few countries, it is not a game-changer, and it is difficult to imagine it taking over the market soon.
The UI is superb, and the domain registration procedure is straightforward. The whole experience is consistent with how Google accustomed us to using its other tools. The simplicity of Google's checkout process and the absence of upsells or unexpected costs stand out. You will undoubtedly value this Google Domains Review if you are new to purchasing domains.
Even putting the user interfaces aside, most users will likely only choose Google Domains if using that domain name extension (TLD) is less expensive than using another registrar. 
Frequently Asked Questions
Q: How does Google Domains work?
A: Essentially identical to every other domain registrar. You can find the domain you want, select it, and buy it with any significant credit card. The procedure should be familiar if you have ever purchased a domain. And learning it is easy if you still need to. Simply browsing desired domain names is free.
Q: Can I host my website on Google Domains?
A: With Google Sites, you may create simple websites or go all out and create an extensive application on the Google Cloud Platform. However, Google Domains does not provide hosting as a service.
Q: How reliable is Google Domains?
A: What you require from a domain registrar will determine this. They offer a simple user interface but few add-on services (like SSLs). Although reasonable, google domain renewal price goes on the more expensive side. It is straightforward and has the Google name, but it also has a track record of Google "shutting down underperforming products."