A new website's launch is always exciting. Choosing your domain name, also called your website's address, is the first step in creating any website. You will require the best domain registrars to purchase a domain name.
Numerous elements, including pricing, support options, speed, privacy, and overall user experience, will influence your decision on the best hosting. Based on these standards, we have created a list of domain registrars for 2023.
To choose wisely when purchasing your domain, continue reading for a summary of all you need to know about domain name hosting and registration.
What are Domain Name Registrars?
A domain name registrar offers and registers domain names. The Internet Corporation for Assigned Names and Numbers (ICANN) has granted these registrars certification. 
This international organization is in charge of handling and maintaining internet-related databases, including domain names. The registrar makes the necessary changes to the database when you buy a domain. 
Other users will be aware of the available domain names and those already registered. In addition, you will often receive a user account where you may control your domain name and Domain Name System (DNS) records.
Additionally, you will have to pay a membership fee to keep control of your domain. You can get web hosting and a domain simultaneously from several domain registrars since they are also hosting companies.
How to Choose the Best Domain Registrars
Consider the benefits and drawbacks of each domain registrar before entering your domain name and providing your payment information. These are the fundamentals to think about while choosing the best domain registrars.
You may be able to register your domain name at a reasonable price, but annual renewal costs might be high. Locate a domain registrar to let you register your domain for the price you can afford. Affordable options usually cost between $10 and $50 annually.
Although free domain registration is available, it frequently has restrictions on changes. Therefore, a solution like HubSpot's CMS Hub, which provides custom domain names among many other capabilities and is available for a free trial, should also be kept in mind.
Every registrar cannot register every domain name type. While most support.com registrations, some only sell country-specific domain extensions, such as.ca for Canada, due to geographical restrictions.
Your contact details and address will be linked to your registered domain name. Your information is hidden from the public through domain privacy and WHOIS protection. This is something to keep in mind as well. 
Some reputable domain registrars offer WHOIS Protection for nothing or at a fantastic negotiate when purchased in a package.
One day you might decide to change domain registrars, or you might wish to combine website hosting and domain registration in one location. Either way, you will want the domain name transfer process to go as smoothly as possible. 
Look into the domain transfer procedure before registering it. Most domain registrars simplify domain name transfers, although a few could have a challenging process or charge extra.
A domain name owner must pay recurring renewal fees. There are plans available for more extended periods, some up to 10 years, but the minimum needed expiration date after the domain registration is one year. 
Although you can set up automatic renewal, what happens if your payment is declined? First, ensure the domain registrar you select provides a grace period, allowing you to modify your payment details before your domain name expires.
Most registrars provide extra services besides domain registration, including WordPress hosting, email hosting, website-building tools, and email marketing solutions. These products come in a variety of prices and quality. 
While some service providers bundle them into every domain registration, others demand that you add and pay for each service separately.
Reputation is important. Check the service provider's online reviews before registering your website. Check out what current and former clients say about the company's support, pricing, and general service. Watch out for warning signs, including lengthy response times, slow page loads, or recurring issues with credit card payments.
Since domains cannot be transferred within 60 days of registration, you must use the provider you choose for at least two months per ICANN regulations. Therefore, putting in the service upfront rather than putting up with poor service for 60 days is preferable.
How Does Domain Name Hosting Work?
It is crucial to understand how a domain name functions to know how domain name hosting functions. When you enter a domain name, your web browser requests the Domain Name System.
Next, the name servers connected to that domain name are searched for by the Domain Name System. Then, it sends your request to the name servers, who then deliver it to the web server that is home to the website. Finally, the web server sends the information related to that site back to the browser.
The domain web host is in charge of managing the name servers, and your website host is in charge of managing the web server. The domain name host's role is to maintain the name servers and register your domain name with the DNS to keep it active online.
8 Best Domain Registrars in 2023
Now that you know what domain name registrars are, let us examine seven of the top choices available. Each provides a broad range of affordable domain selections and other services.
Some domain registrars provide top-level domains (TLDs) that other registrars do not should also be noted. For instance, if you are seeking a .tv or .fm extension, and one supplier does not offer it, check out another. 
We believe it is recommended to spread your domains out over several registrars.
At first glance, the .VOTE domain serves as a clear indicator of your identity and purpose online. It is gaining widespread adoption for disseminating voter-centric, politically relevant information. The appeal lies in its credibility and specificity, aligning your brand instantly with a political party, platform, and agenda. All .VOTE domains undergo verification, underscoring your reliability as a go-to source for voter-related information. The dedicated .VOTE namespace actively combats political cybersquatting, fostering a digital environment that supports positive and accurate content about candidates, politics, and crucial issues.
A .VOTE domain offers versatility and immediate attention, elevating both personal and professional brands. Its brevity and professionalism contribute to improved search engine rankings by incorporating relevant keywords directly into the URL. This strategic use of keywords enhances visibility, making it more likely for users searching for voter information to click on a link with the desired .VOTE keyword in the domain. Recognizing that each click on organic search results translates to cost savings in paid marketing, securing a .VOTE domain becomes a substantial advantage.
The evolving landscape of the internet emphasizes the importance of precise domain names that provide a glimpse into your brand's identity. Establishing yourself as a trustworthy resource, augmenting your online marketing efforts, and distancing yourself from dubious political tactics are all achievable with a .VOTE domain. It's not just a domain – it's your name, your politics, and your official online presence encapsulated in a .VOTE domain.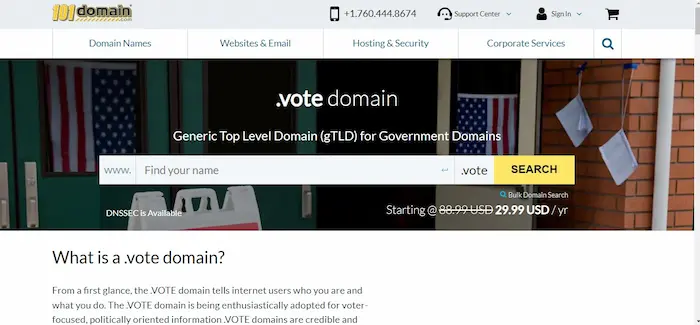 If you want to initiate an online store, Shopify is one of the best domain registrars. Convenience is crucial, especially if you have never created your website before or even if you have. If you build up each part of a website, especially an online store, separately, you require many platforms and tools.
A website design, a server to host your domain, a domain registrar, and, most likely, email and customer support functions are all necessary. It is feasible to complete all of this independently, but speaking from experience, it becomes challenging and is simple to become lost in a rabbit hole.
You may purchase all of the stuff from Shopify in one location. In addition, you will not have to worry about complicated technical setup procedures or third-party connections when registering your domain with Shopify because it is immediately connected to your online store.
Prices are slightly more than those of other domain registrars. However, renewal costs are fair. Although it may not be ideal for you if you do not require that feature, Shopify is best suited for individuals wishing to launch an online store.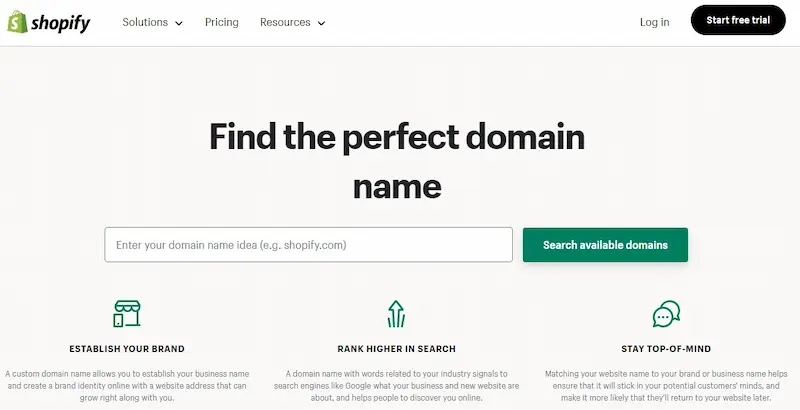 If you simply want to register a domain name, Domain.com is the perfect and one of the best domain registrars for you. However, it provides complementary services like complete website design and online hosting.
No extras are included with domain registration, and SSL certificates and privacy protection are paid extras.
The website builder is a helpful tool for beginners and is offered as an add-on. It is simple and enables new users to build websites from scratch. Additionally, it includes a drag-and-drop interface, so coding knowledge is not required.
As long as the domain is older than 60 days, domain transfers are simple. All you have to do to transfer a domain away from Domain.com is unlock it, choose to disable privacy, and then opt out of domain lock.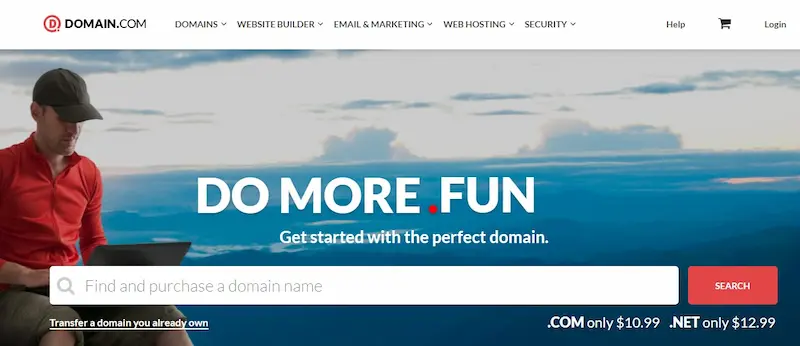 Another one from well-known and best domain registrars and web host is GoDaddy. This business provides several services, such as domain transfers and registration. Additionally, it facilitates your domain purchase and hosts domain name auctions. 
To locate the right domain, utilize the search bar. In addition, GoDaddy provides a broker service to assist you in obtaining your preferred domain name if it is already registered. As an alternative, you can pick from a variety of related domain names.
GoDaddy offers a straightforward domain setup. Additionally, it provides simple tools to assist you with forwarding your domains to a functional website. More than 500 domain extensions are available to you, which is more than many other registrars can provide, and all domains come with free privacy protection. 
GoDaddy's Full and Ultimate Domain Protection plan protects against domain hijackers and unauthorized access.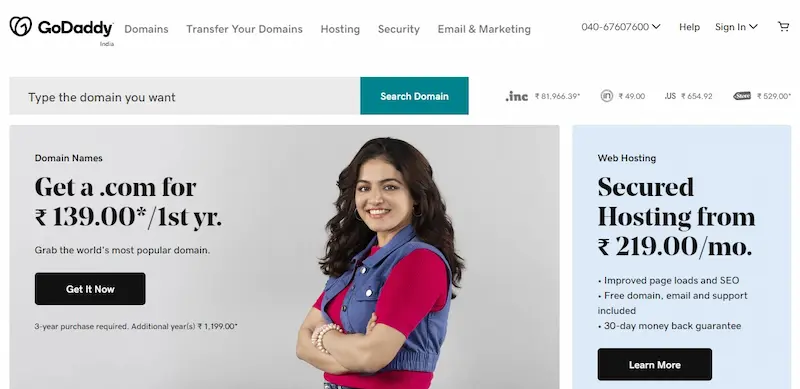 With over two million customers served, Namecheap has been another certified and best domain registrar for small businesses since the turn of the century. The WHOIS privacy protection is included in the reasonable $8.88 fee for.com names, which is a good deal.
Namecheap offers reasonable rates and simplifies the entire purchasing procedure. A domain can also be purchased for up to ten years. You can prevent having to pay the $12.98 renewal fee by doing this.
Additionally, Namecheap offers a distinct domain market area where you may purchase or sell domains. Transferring is also made simple. If you require assistance, live chat support is always available. This is a wonderful choice if you want a package with WHOIS protection and web hosting at a reasonable price.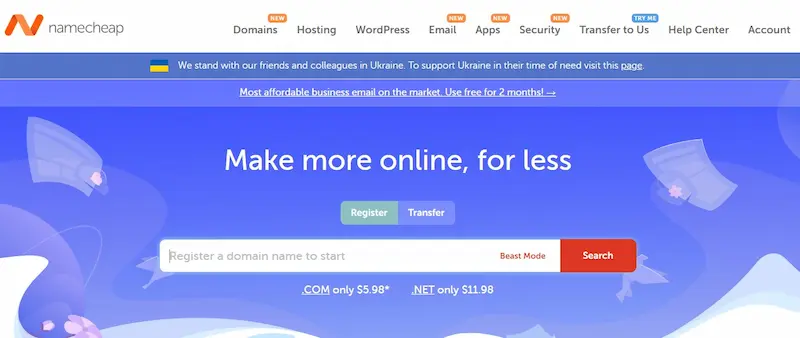 A reputable and trustworthy name in the Internet service provider sector and one of the best domain registrars is Google Domains. They give professional email accounts, website creation tools, domain names with more than 300 possible extensions, and more.
The user interface of Google Domains is straightforward and user-friendly for beginners, offering a quick registration process without upsells or additional costs. But, of course, it goes without saying that if Google integrations are essential to you, this is the finest place to get a domain name. 
You can get WHOIS privacy protection, email forwarding, two-step verification, and other benefits when you buy your domain through our site.
Although Google Domain Registrar has the largest selection of TLDs, popular options like .mobi and .tv are not included in their choice. However, you can buy multiple.com names simultaneously, and $12 per year also applies to renewals. 
Unfortunately, you can only purchase a domain name via this platform if your billing address is specified in one of the 19 countries Google Domains supports.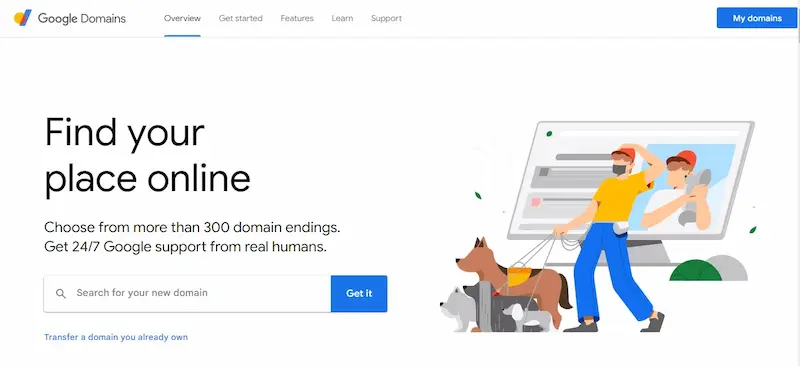 Bluehost is mainly known for its web hosting services but is acknowledged and recognized for its domain registry offerings. The annual cost of a .com domain with Bluehost is $12.99. However, if you sign up for hosting through Bluehost, you will find it the best free domain registrar for a year.
Bluehost has an outstanding reputation in the hosting industry and offers shared hosting plans for as little as $2.95 monthly. Additionally, Bluehost is a pioneer in managed WordPress hosting if you are constructing a WordPress website.
The catch is that privacy protection carries a yearly charge of $11.88. Again, registering a name with private data is well worth the cost, but it is something to consider if the budget is limited.
When you register a domain name with Bluehost, you also get auto-renewal and domain locking, which stop unauthorized transfers of your domain. Live assistance is always accessible if you run across any problems.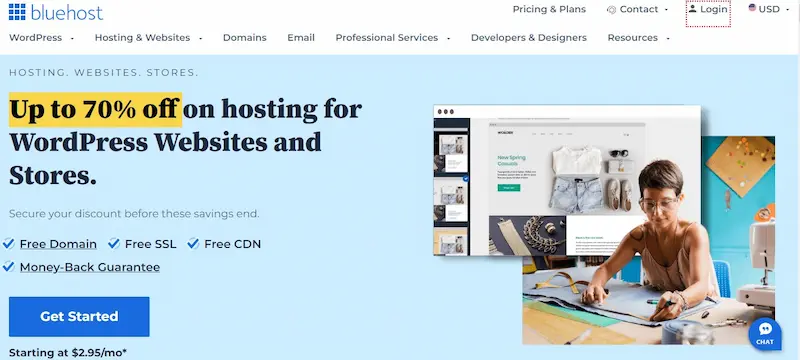 If you want to build an e-commerce website and use Hover Connect to link it to an online store on Shopify, Etsy, or Facebook, you should think about one of the best domain registrars, Hover.
Additionally, you can link your domain to online tools for publishing, like Weebly and Jimdo. The user-friendly interface of Hover's no-fuss domain registrar makes it easy to register domains.
The platform adds a price for an additional year of domain registration starting from the time your domain is scheduled to expire, but you do not pay anything to move your domain to Hover.
According to the registrar, all Hover domains have free WHOIS privacy protection, but ICANN registration costs extra.
Transferring your domain to Hover is simple, although the cost will vary depending on the domain you want to share. When you register ten or more names through Hover, you can also take advantage of bulk domain prices and discounts on renewals.
Frequently Asked Questions
Q: Why is picking the best domain registrars necessary?
A: Choosing the best domain registrars is essential since it might affect the visibility and usability of your website online. Your website will be visible and easily found online due to a known domain registrar.
Q: What factors should I consider while selecting a domain registrar?
A: When selecting a domain registrar, you should take into account aspects like cost, domain extensions that are available, customer support, ease of use, and additional features provided.
Q: Can I transfer my domain from one registrar to another?
A: It is possible to move your domain between registrars. The procedure, meanwhile, can take a few days to complete and might cost more money.
Q: What is the typical price for registering a domain?
A: Depending on the domain extension and the domain registrar, the average cost of domain registration varies. Typically, prices range from $8 to $20 annually.
Q: Do domain registrars provide any other services?
A: A lot of the largest domain registrars do provide extra services like web hosting, email hosting, tools for developing websites, and services for internet marketing.
Choosing the best domain registrars is one of the most essential steps in creating a successful website. You can ensure that your website has a strong online presence and that your visitors can discover you online by selecting a reputable and trustworthy domain registrar.
The leading domain registrars of 2023, including Namecheap, GoDaddy, Domain.com, Shopify, Bluehost, Google Domains, and Hover, have all been reviewed in this article. These registrars have distinctive features and cost alternatives and provide top-notch customer service. 
Your best domain registrars will ultimately depend on your particular needs and demands. However, considering the elements covered in this post, you may confidently select the finest domain registrar for your website.