As the world is moving towards more digital space, a Professional email address has become one of the most important things for all kinds of businesses. A personalized free email domain can help businesses increase their visibility and establish strong online credibility with the audience.
So, it makes perfect sense to get an email domain that matches your branding if you own a business. On the other hand, using your home address to correspond with customers may portray your business as unprofessional and undermine credibility.
Getting a customized email domain for a business can be expensive and complicated, but do you know there are several ways to get a free email domain for your business? However,  Finding a free email domain can be challenging.
Although many email service providers are available, only some well-liked options provide free business email with domain. But no matter whether your business is on a small scale or a large enterprise, you should know that you need a separate business email for your business. For example, when someone places an order in your store, you expect to receive an email to confirm the order, so you can assume your clients will expect the same of you.
However, several web hosting providers that give you free domains when you purchase one of their plans are available. You can easily link some of them to your Gmail account, and some are affordable. However, alternative options can work better if you do not want any connected charges.
This article will review five methods to set up a free email domain, whether you also buy an email domain or web hosting.
Before going deep into the topic, the first thing you should know is that an email domain is an email address that follows the "@" symbol. This symbol works as an identifier for business organizations and entities associated with their email addresses.
The email domain sends messages to the right mail server to be delivered to the right person. For example, you have an email address of "info@breakingbattlegrounds.vote" where "breakingbattlegrounds.vote" is the name of your email domain which means that your email is associated with the domain name "breakingbattlegrounds.vote" Therefore, all your messages will be routed to the email server that manages the email for your domain. 
These email domains are one of the most important parts of email communication because they provide a way to authenticate and identify the email's sender. If someone sends you a message, you can check their domain name by their email address and verify if the message sent to you has come from a legitimate source to reduce any risk of phishing attacks, spam, and other fraudulent activities.
Moreover, you can get these email domains for free or customize their email addresses for different organizations and businesses. For example, if you have a shoe company and the domain name is "shoes.com," then you create an email address for their workers like "john@shoes.com."
Top 5 Free Email Domain Providers
Building a trustworthy brand requires having an email address on your domain, such as yourname@business.com, but domain registration and email hosting can be expensive. 
With providers offering free domains and services like web hosting, email hosting, or a site builder, you can avoid charging costs. These are the top 5 best free email domain providers.
Although it might seem obvious, Gmail is simply too valuable not to take the top position. Gmail is the second-most popular email service, behind the native email client for the Apple iPhone, according to Litmus Labs.
Gmail has become an increasingly popular email domains tool due to its wide range of non-email communication options available from the inbox. With a Google account, users can use Gmail functionally while using several free apps in Google Workspace (formerly G Suite). 
These features enable contacts on one's contact list to engage in text and video chats, host video conferences, and share files without sending emails.
All these services are conveniently accessible through Hangouts on either the left or right sidebar of your inbox display. In addition, today's email services include a calendar to schedule meetings and reminders. Gmail is no different.
Unlike other email accounts, you can access and control your YouTube account using your Gmail username, and you can work together on shared documents and spreadsheets directly from a cloud-based Google Drive.
Gmail makes every effort to reduce the disorder in your inbox, including offering complex filters that automatically push emails into different folders as they come. In addition, Gmail provides a substantial 15 GB of free email storage. Furthermore, none of these services are of any cost.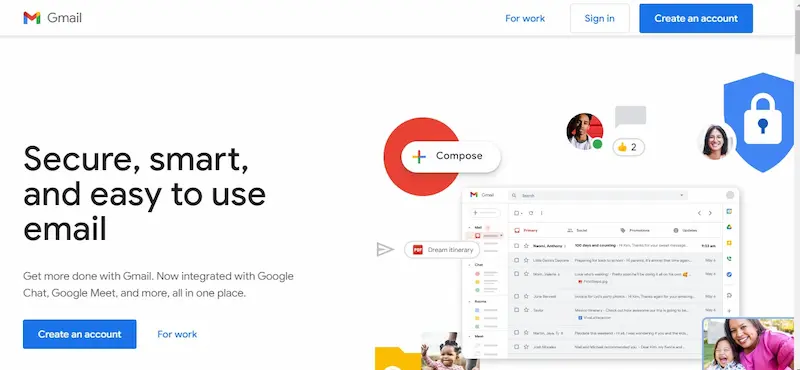 With certain of its hosting options, DreamHost provides a customized and cost-free domain. Once more, this approach is only partially free. However, this option can be less expensive if you seek a hosting company.
It should be noted that not all hosting plans include a free email domain. For instance, an email address will cost extra if you select the Shared Starter option. As a result, we advise choosing the DreamPress option, which has a monthly price of $16.95.
You can select a unique email domain address after entering all your information and paying for your hosting package. You can accomplish this by going to Mail Manage Email on your DreamHost panel.
Select Create New Email Address, after which you can enter your information. You must provide your preferred work email address, password, and the amount of storage you want to give your inbox.
You can reply to emails right from your DreamHost dashboard from here. You can also incorporate your new address with a third-party system like Outlook.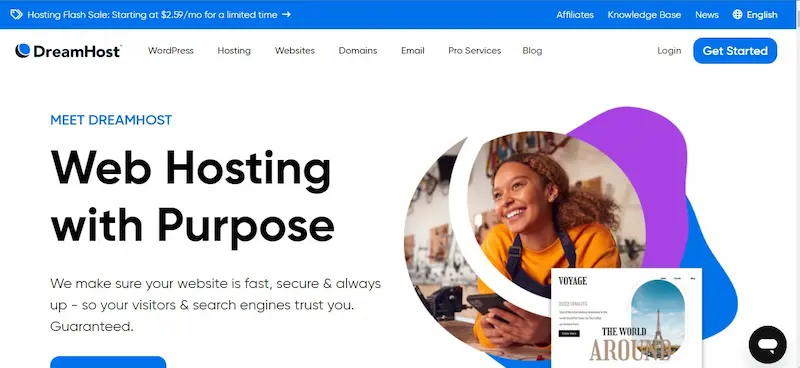 This method is not free because you must get a web hosting package. However, if you must host a website, you may select a budget-friendly choice like Bluehost and receive a custom email domain free, a free domain name for a year, as well as a free SSL certificate.
If you want to create a professional online presence, this is a great option. It is simple to set up, smoothly integrates with WordPress websites, and provides various tools to launch your website.
Go to Bluehost first and select your plan there. The least expensive option costs as little as $2.75 a month, which is still cheaper than getting a brand-new name or paying for exclusive email hosting.
You can register a website domain once you have made your plan selection. Use a domain name generator to get suggestions and check their availability if you need help with the best option.
Once you have finished the account setup, log into your Bluehost dashboard and select Advanced Email Accounts from the control panel. You can set up your email domain at this point.
You can start utilizing your new email domain in several different ways. For instance, you can connect to a well-known email tool like Microsoft Outlook, Thunderbird, or Gmail or use the webmail interface provided by Bluehost. Due to its convenience, you do not need to log into your hosting account to read your inbox, and some users prefer this method.
Excellent resources for support are available from Bluehost, including guides on how to link your email account with Outlook. Then, you can set it up using Gmail according to the guidelines.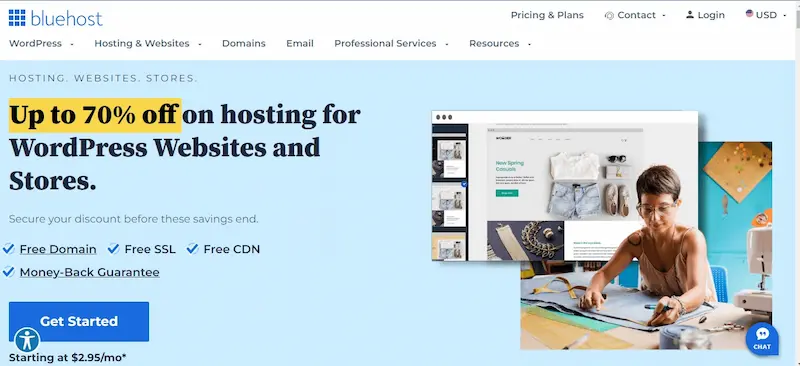 Using Zoho Mail, you may create a free email domain that matches the custom domain of your website if it already has one. This email service offers web admins a free option, numerous plans, and exceptional value.
Up to five users can access email under the Forever Free Plan. There is a 25MB attachment restriction on emails sent over its mail servers, and you are given 5GB of data storage.
However, before registering with Zoho Mail, you must already have a custom domain. Choose a custom domain from a domain registrar like yourdomain.com, Hostgator, or GoDaddy if you do not already have one. You can use a generic domain if you do not have a custom domain.
To strengthen your brand identification online, attempt to incorporate your business name while choosing your domain. In addition, you can choose from various useful paid subscription plans offered by Zoho free domain email.
Upgrades like calendar integrations and offline access to your mailbox are offered for a reasonable monthly subscription. However, it is crucial to know that the Zoho Mails Forever Free Plan only offers web access; email forwarding cannot be enabled on your account using another email client.

Through IONOS, it is simple to obtain a free custom email domain. All of its email hosting options start at $12 per year and have a free domain (and SSL if you want to use the same name for your website). 
Your domain is also included in your email hosting package for your subscription, which is another benefit of choosing IONOS. However, the domain is typically only free for the first year (not indefinitely) when obtaining a free domain for email.
To protect your contact information and keep it out of the access of list-buying spammers and website hackers, IONOS includes private domain registration. In addition, users of the business plan can store up to 50GB of data, and their emails are protected from spam and phishing attacks.
Changing from another email provider to IONOS? IONOS also offers free email migration to your new account, which is good news. Additionally, if something goes wrong and you need assistance, the IONOS staff will support you.
The Benefits of a Free Email Domain
Email addresses have become one of the most important things for communication in the business world. However, for many businesses and organizations, emails have become popular tools but high cost and can become a hassle for small businesses and startups. So, businesses looking for something at a low cost or free can use free email domains, which can provide several benefits without any additional cost.
One of the biggest advantages of free email domains is that they are very cost-effective. Businesses can save money using the free email domain by avoiding investing in any personalized or customized domain. These free email domains can be a special help, especially for new startups, small businesses, or startups with a good limited budget and need to save money.
You can include your business name in three email domain addresses to help your brand and establish an online presence. If you are just starting your business and need more money to invest in custom domains, then using a free email domain can help you build your brand and increase creativity in the eyes of your clients and customers.
A free email domain can give you an advantage of accessibility because it is available for everyone to access using an internet connection. The free email domain makes it easy for you to stay connected with clients, customers, friends, and colleagues.  No matter where you live, all you need is your smartphone or laptop to access email and respond to the messages you have received on time.
Several reputable free email domain providers give advanced security measures with email domain. These advanced security will help your email and protect it from any spam phishing attacks and threads.  You can take the example of Gmail as it is one of the most popular and used platforms for free email domains but it has a strong system of spam filters that helps users to keep unwanted and spammed emails out of their inboxes. Let's save their effort and time.
The setup of free email domains is very simple and easy. It only requires basic information and just a few clicks. This is the best option for busy people who need more time or resources to set up a complex or customize email domain. Moreover, most of the email domains have easy to use interference and features which makes managing the account easy.
Which Free Email Domain is best?
We have discussed the five best free email domain providers for you but going through these email domain providers can raise the question and remind you which free email domain provider is best for your business? Which one to choose and leave? If you are having any questions like this then you should know that using the free email domain provider depends on the preference and needs of your business because each provider has its unique benefits and features.
Before you consider any free email domain provider, let's  take a closer look with Gmail, Dreamhost, Bluehost, Zoho Mail and Ionos to determine which one is best for you. There are some points that will help you to choose a free domain provider for your business.
Gmail is one of the most famous free domain providers which provide web based email client spam protection, 15 gb storage powerful service capability, and its integration services. So if you are someone who is looking for all of these features in your free domain then Gmail is best for you but one thing you should remember is that it does not have a custom domain fee of cost and you will need to use the domain with your own name.

As we take a closer look at BlueHost and Dreamhost, both are free domain registration providers with hosting plans for 1 year and customer support 24/7 to help you with relevant issues you face with email domains. So if you are looking for unlimited accounts and a web-based email client, these free email domain providers can be a good option for you.

On the other hand, if you look into Zoho Mail, it offers a free plan with customized domain support for 5 users. It also provides web-based email client email forwarding spam protection and calendar features. So zoho mail can be a great option for a small business or startup with a small team.

As for IONOS, it provides users with a free domain, hosting plans, web-based email clients, and mobile apps. So if you are searching for a free domain with a web-based email client with mobile apps, IONOS can be the best fit for your business.
Go through all these to get the best idea for a free domain, and consider your need and specific references while choosing a free email domain provider for your business or personal use.
Getting a free email domain is a quick and easy approach to improving your online visibility and presenting a credible image. The five methods in this article offer fast and simple ways to get a customized email address with your domain.
Remember to pick an approach that fits your unique requirements and preferences. Consider elements like functionality, ease of setup, and your preferred level of customization. For example, you may create a specific and personalized email address with a free domain that strengthens your brand, boosts credibility, and makes you stand out in a crowded digital scene.
Use these methods to enjoy the benefits of a business email address without the expense. You may improve your communication, win the trust of your audience, and leave a lasting impact on your professional and personal connections by putting one of these methods into practice.
Easily grab your special .vote web address at 101domain.com, and let your online space stand out!
Frequently Asked Questions
Q: Can I choose the exact domain using a free email domain?
A: You often need help to select an exact domain with free domains. You must use a branded address or pick from the company's list. However, if your hosting company offers you a free domain, you usually have complete control over the domain name.
Q: Is it beneficial to get a free email domain?
A: A free domain can be beneficial if it matches your website's domain name. However, it will be challenging to identify your address from "hotmail.com," "yahoo.com," "gmail.com," or other similar addresses if you have to pick a random email ending. As a result, we advise you to find out if your website hosting provider allows you to customize your name and preserve your company branding ultimately.
Q: Does my business email require a.com domain?
A: Along with the new .co extension, the.com domain extension is the most popular option for most businesses. It is the most memorable and ideal for creating a strong online brand presence, but locating a free .com domain might be difficult. Fortunately, alternative top-level domain extensions are excellent for commercial use.