Like an appealing residence, a successful domain name depends entirely on curb appeal. Choosing the best domain name generators will increase your website's monthly traffic and bring in visitors from other websites.
Avoid spending more money than necessary for a terrific name. Some domain registrars (and domain generation tools) engage in a practice known as "domain tasting" in which they check to see what domains people are looking for and then momentarily register those concepts to look for either unavailable or expensively priced domains.
It is hoped that you will offer a little ransom in exchange for its return, putting more cash in their hands. We can assist if you are trying to develop some fantastic domain name suggestions without worrying about being sniped.
The top 15 best domain name generators of 2023 are listed here, along with details on their costs, features, and other advantages. We will also inform you upfront about any restrictions you need to consider.
15 Best Domain Name Generators in 2023
You can check the availability of a selected domain name using a domain name generator. Additionally, you can type in specific terms to get domain name suggestions.
Most domain name generators recommend names that include the.com top-level domain (TLD) and additional TLDs, like.org and.net, or country-specific TLDs like .us, .uk, and .it. To focus your search, you can also filter the TLD choices.
Check our listing of the top 15 best domain name generators for 2023.
One of the top best domain name generators available is called Nameboy. This name generator, established in 1999, is also among the best-known and most reputable ones on the market.
Simply entering your keywords will create a lot of creative domain name suggestions for you. Following that, you can click on any domain name to examine more information or finish the registration process by following the prompts. It is lightning quick, allowing you to look for more potential domain names in less time.
The Nameboy team has developed additional generators with a similar function using their quick domain name search tool, including brand name generators, blog name generators, startup name generators, podcast name generators, and more.
2. Hostinger Domain Checker
You can simply check domain availability and buy one using Hostinger's domain checker tool.
The search tool will let you know if the desired domain name is accessible when you enter it in the search form. Additionally, it provides several recommendations utilizing other domain extensions that are appropriate terms.
Numerous custom domain extensions are supported by Hostinger, ranging from well-liked options like .net and .online to specialized ones like .eu and .fm. To reduce the number of results, use the search filters. Additionally, you can provide a price range of $0.99 to $99.99.
The results display the pricing and Add to cart buttons for each name. When you locate an acceptable domain name, click the button, and the domain checker will direct you to the registration page.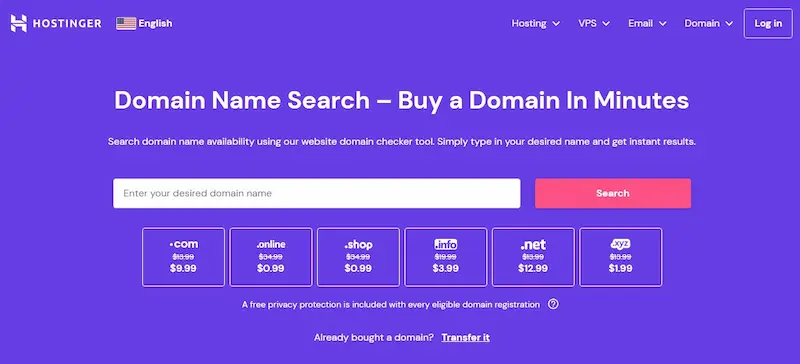 Namecheap is a domain registrar and business name generator. They provide various search and filtering options, enabling exact control when developing domain name suggestions.
Everything you could possibly desire from a domain name search is available in beast mode.
Select Transform Options to create variations, type in a few keywords, pick a price range, and select the top-level domain extensions you want to view. 
Additional top-level domain possibilities allow you to select domain extensions for business, technology, and marketing sectors. So again, you have much power over how your search will turn out.
Remember that it performs better when complete names are used than just keywords when using Namecheap.
One of the first places you should look for a name is Namecheap, one of the best domain name generators available.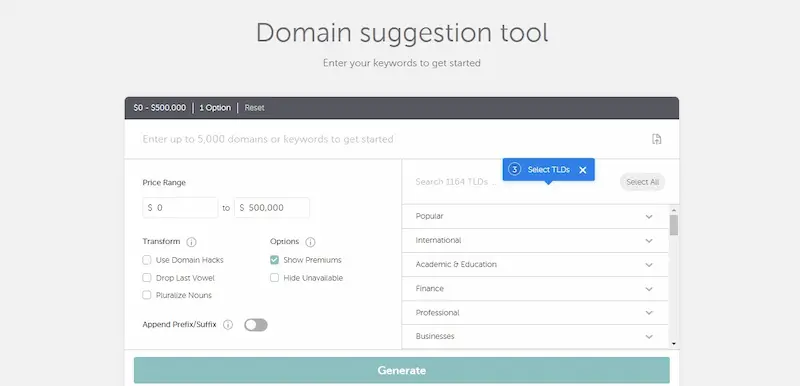 Name Ideas Generator appears to be a relatively simple search at first glance. But when used, it generates a huge list of candidate names for numerous domain extensions.
You can get a helpful list of alternatives in addition to seeing if a domain name is available. A few of the methods used by Name Ideas Generator to generate original name suggestions include switching vowels, removing letters, backward spelling, and synonyms.
Using keywords generated by search engines while creating names is another fantastic feature. You can access even more domain names using platform-specific keyword generators from Google, Bing, YouTube, Amazon, and other search engines.
Name Ideas Generator has to be at the top of the list of resources you use in your domain name search because it can generate a wide range of fresh domain name concepts.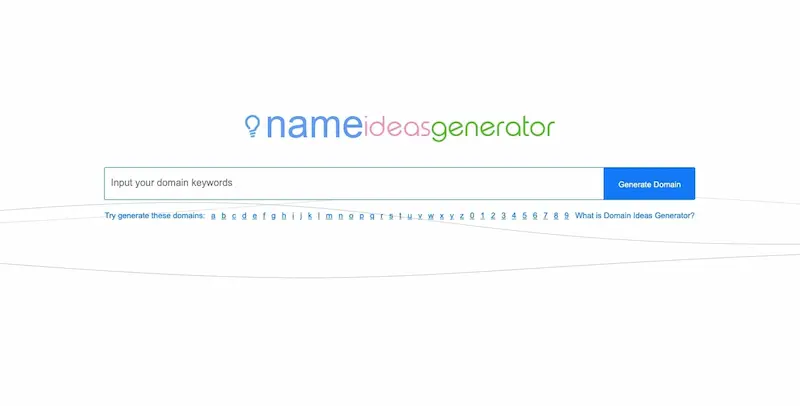 Instant Domain Search is precise as it is named. Available domains appear in real-time as you type. It is a great touch that lets you immediately check which domains are still available.
It is a minor judgment because selecting "buy" does not always ensure the desired domain is available. Fortunately, additional potential options are displayed when transferred to domain.com to complete your purchase, so this is not a waste of time.
Instant Domain Search is a helpful tool for quickly coming up with domain name suggestions, helping you create your name without wasting time.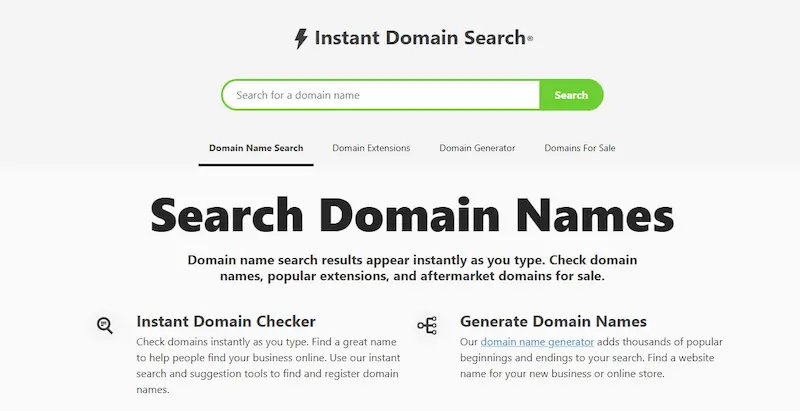 Another domain search tool powered by Nameboy is Blog Tyrant. To generate original domain name recommendations, the tool asks you to enter keywords associated with your brand and offers variations of one- or two-word phrases.
The domain name generator from Blog Tyrant is primarily intended for bloggers. You can rapidly design the perfect domain name for your blog, "musicpoodlelife," by combining basic terms like "poodle" with an appealing modifier like "music".
Like Nameboy, Blog Tyrant uses Bluehost to check the availability of domain names. You may turn this off by clicking the ticker box next to the search bar.
Although Blog Tyrant may appear to be a comparable domain name generator to Nameboy, it does include some specific extra tools, such as a Website uptime checker, WP security scanner, Downtime calculator, WordPress speed test, and Password generator.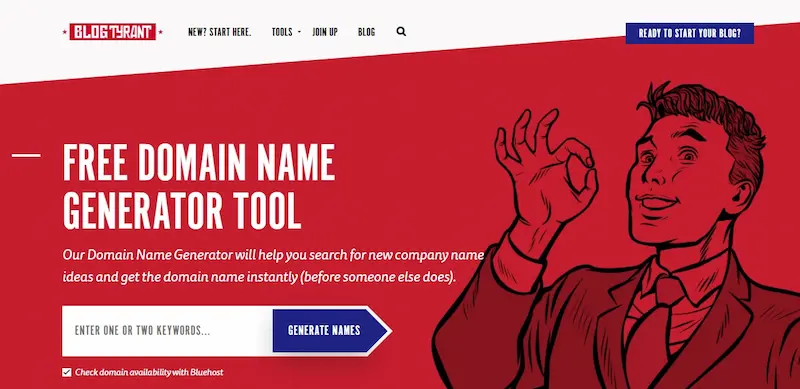 A domain name generator is one of the many AI-based tools available on the website builder Zyro. Enter the desired domain name or keywords, and the tool will check availability.
The.com TLD will be displayed first in the search results, if present, followed by several other domain extensions.
The rates for domain registration and renewal, which are crucial for budgeting or long-term planning, will be displayed in the results. In addition, you can buy a domain by clicking the Add to Cart button.
The free domain privacy protection layer hides your personal information in the public WHOIS database.
This generator does not, however, offer additional domain names with different combinations. Fortunately, Zyro's business name generator can assist you with this creative process.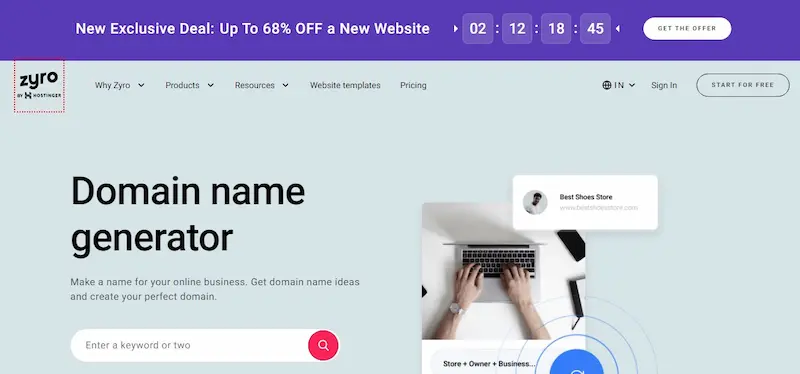 A powerful tool called Network Solutions was created to make it easier for you to identify appealing domain names for purchase. The service also serves as a hosting provider with IT services, security, and other features. For any questions, a live chat option is also available.
By offering well-liked, new, and other domain name extensions, Network Solutions may help you find the perfect domain name. You do not have to limit yourself to using the more well-known top-level domains (TLDs) like .net or .biz. 
Instead, you can look into various intriguing suffixes like .guru, .accountant, and more. However, they occasionally indulge in domain tasting, so be prepared to move on from a name before looking for it.
You can always use Network Solutions to check for premium or expired domain names if you want a great deal. Using this tool, you may temporarily search unused domains and profit from your favorites.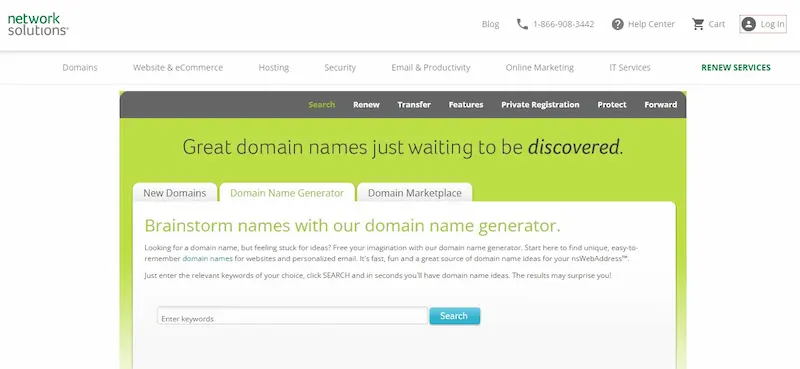 One of the best domain name generators for coming up with company or website names is Looka. Additionally, it is one of the most complete and feature-rich domain name generators.
Entering keywords into the search area and deciding on the character limit can help you develop ideas. Three categories of findings will be shown invented names, compound names, and multiword names.
A pop-up sidebar will appear on the left side of the window if you click on any result. It will provide comprehensive details about the name, including its pronunciation, the availability of domains with different extensions, and social media usernames.
Looka helps you choose the perfect name for SEO by displaying the name's search volume. You can check if the name is registered by clicking on a link to the US Trademark Electronic Search System (TESS). Additionally, it also provides original logo concepts for each outcome.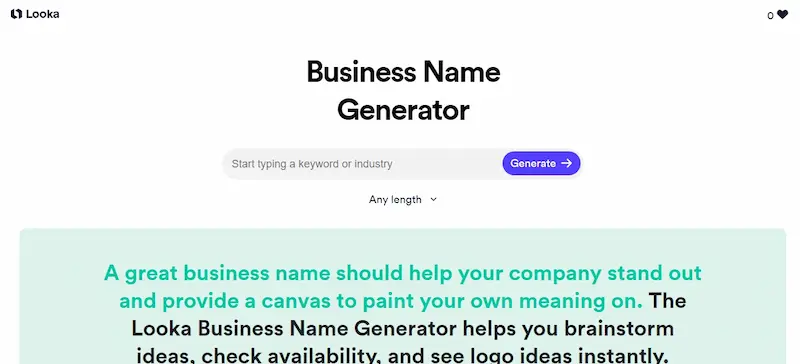 Panabee is one of the best domain name generators, and it stands out due to its visually appealing layout and visual identity. Not only does it have a nice appearance, but it also adds a lot of functionality to this website name list of free domain name generators.
The search box there asks you to enter a few keywords. Each available domain name has a blue heart, with a broken heart next to taken domains, rather than a long scroll of results that strains the eyes. 
The design and stylization make it a fun and exciting user experience while still being an efficient and short domain name generator.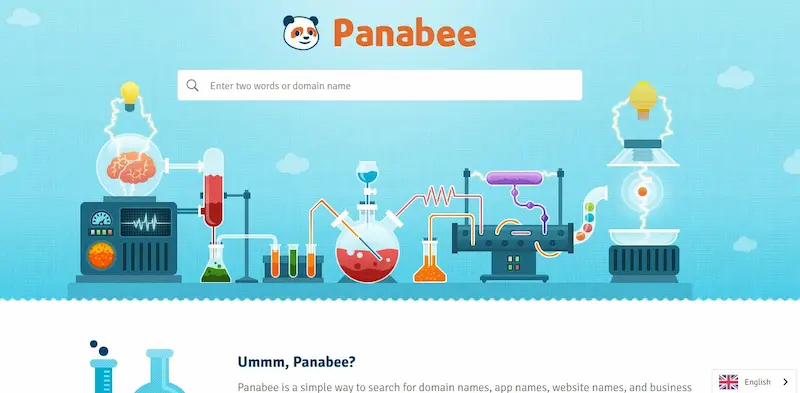 The best domain name generator to get.com domain ideas is Lean Domain Search. In the search field, type the appropriate keywords to obtain a wide range of possible alternatives that contain those exact terms.
Results can be sorted in alphabetical order, popularity, or length. Additionally, a filtering option allows you to select between results that begin or end with the provided keywords.
A pop-up screen where you can register the domain name will appear if you click on any result. This tool also indicates whether the domain names are accessible as Twitter usernames, which is fascinating.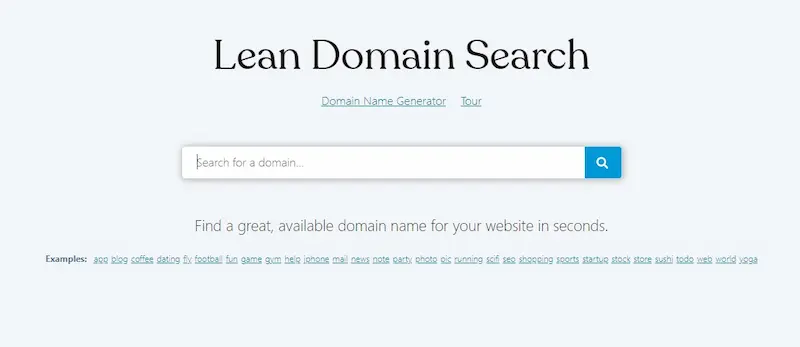 Domain Wheel is a simple domain name search tool and one of the best domain name generators. Simply type the terms into the search box and choose the desired extensions from the drop-down menu next to it. The 15 extensions this tool supports include .blog, .us, and .online.
Only domain names that are currently available and domain name ideas with appropriate keywords are listed in the results. You may buy the name from the associated domain registrar by clicking the View Details button.
This tool suggests appropriate keywords if you can not think of a good name. Select one of the suggestions to see more domain choices for the new keywords.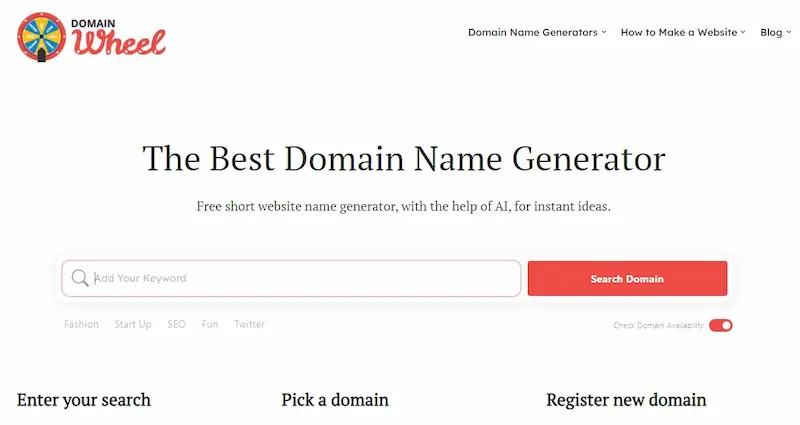 The top of the page links to Domain Search and Domain Maker, two tools Bust a Name provides for finding the best domain name suggestions, making it from the best domain name generators.
The Domain Search tool can be used in two different ways. First, by typing a term into the Quick Name Check option, you can check whether a name with the .com, .net, or .org endings is available.
The second option takes advantage of the Word Combiner function; simply type a few words in the text field to get a list of domain names that appear in the middle column.
The words entered are combined by this domain suggestion tool to produce fresh suggestions. In the bottom area, you can change your choices for word extensions, word combinations, and prefix usage.
On the other hand, the Domain Maker tool requires entering the term at the start or end of the domain name. Additionally, you must choose the maximum number of characters. When everything is ready, the results will show up in the table.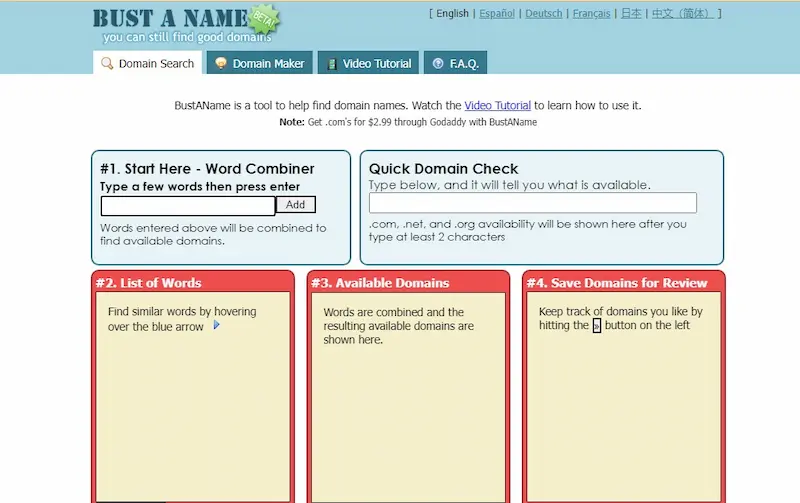 NameMesh is one of the best domain name generators. It makes every effort to provide you with options for generating domain names. As a result, you get a long list of prospective domain names, many of which you will find helpful, from verifying the availability of the most popular extensions to adjusting the letter layout, including words, suffixes, and additional features.
Looking to launch an online store selling cat mittens (after all, they do go missing frequently)? Numerous combinations are produced using the domain name generator NameMesh, with more hits than misses.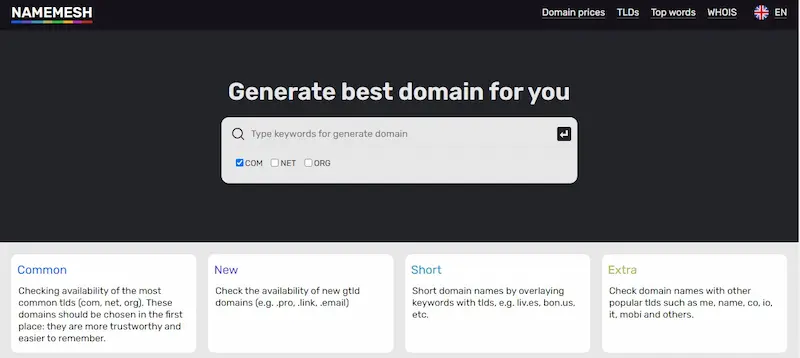 A quick domain research tool with a clear and simple UI is called Domainr. When you type a query into the search bar in the top-left corner of the homepage, suggestions will appear.
This tool's suggestions include names with different extensions and associated keywords. A list of premium and inaccessible domains that are up for sale is also included.
This domain generation tool has no sophisticated capabilities compared to the other tools on our list. But its straightforwardness makes it among the best domain name generators for rapid research.
Frequently Asked Questions
Q: What is the process of a Domain Name Generator?
A: A domain name generator often employs algorithms to produce random word, letter, and number combinations to check if they are already taken. Some name generators also use AI to suggest names based on the topics or keywords you input.
Q: What is the price of a domain name generator?
A: Most domain name generators, like the domain search tool from Hostinger, are free to use. Some, however, can impose a one-time charge or a recurring monthly fee.
Q: What to look for when choosing a Domain Name Generator?
A: Consider features like keyword suggestions, domain availability checks, and customization possibilities when selecting a domain name generator. For instance, Hostinger provides all the necessary features, a price comparison, and an intuitive user interface.
Q: How can I come up with a catchy domain name?
A: Maintain shortness. Shorter domains are simpler for users to remember. Avoid using characters other than those in the Roman alphabet, including numbers and hyphens. Also, ask family and friends for feedback to determine which one you should choose.
A strong online presence starts with choosing the perfect domain name for your website. Your domain name must therefore be memorable and significant.
You can use the best domain name generators to help you think of a good name and check availability. Then, simply enter the keywords, and the system will check the name's availability and provide alternatives if the one you want is already taken.
We advise purchasing the domain name when you discover one available so no one else can take it. Great domain names can face stiff competition. You could have to spend more money to purchase a domain name that has already been registered.