In the modern world, political organizations must have a powerful online presence to connect with supporters and win new ones. Websites are used by political organizations to spread their message, exchange information, and raise money. A political organization should consider the domain name they choose because it sends a clear message about the website's intended audience. Because it conveys the idea of voting and political engagement, the .vote domain extension is an excellent choice for political organizations.
A top-level domain (TLD) called ".vote" was launched in 2016. As the name suggests, it is a domain extension explicitly created for political organizations and websites that discuss elections and voting. For political candidates, campaigns, and organizations that want to establish a strong online presence and effectively spread their message, a .vote domain extension is a great option.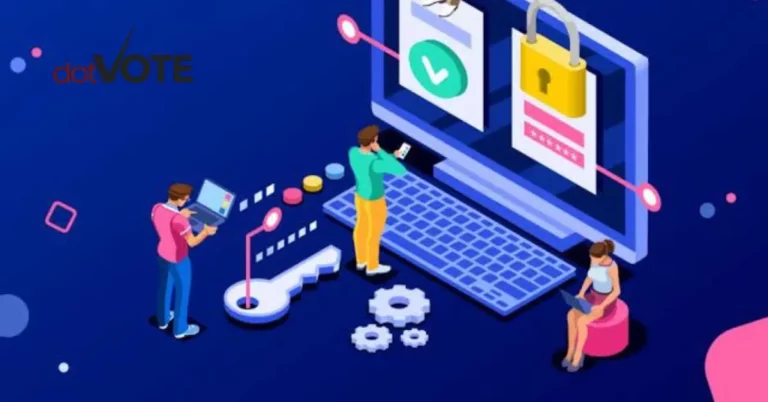 Political organizations can make their website's purpose clear and memorable by using the .vote domain extension to establish their website address. For instance, a political campaign could select a website address like "www.johndoe.vote" or "www.smithforcongress.vote" using the .vote domain extension. Supporters will discover and remember the website address more efficiently as a result, which can increase traffic and engagement.
Using the .vote domain extension also shows that you value democracy and civic engagement. Political organizations can use the .vote domain extension to spread their message and encourage voting, boosting interest in and support for their cause. A .vote domain extension is a potent tool for political organizations looking to establish a strong online presence and engage with supporters successfully.
What is a Domain Name Registrar?
A domain name registrar is a business that sells and registers domain names. The non-profit Internet Corporation for Assigned Names and Numbers (ICANN), responsible for administering domain names, has accredited all domain name registrars. Everyone can use the internet easily due to domain names. Without domain names, visiting websites requires entering a long string of numbers called an IP address.
This issue is resolved by domain names, which enable websites to select addresses that contain simple-to-remember terms, such as wpbeginner.com or google.com. Companies can apply for accreditation and become domain registrars because ICANN aims to make domain names broadly accessible. You can get better support and tools when you buy your domain name due to the competition between these businesses to offer domain name licenses.
The Top 3 Considerations When Selecting a Domain Name Registrar
When you buy a domain name, some domain name registrars can immediately pre-check add-on services. Unchecking those boxes will considerably raise your bill if you do not. For example, a .com domain name should not typically cost you more than $14.99 annually. If it does, that should send up a warning sign.
To keep you as a client, most domain registrars work to make their websites simple to use. Some domain registrars, however, take the exact opposite approach. As a result, you would find it challenging to modify your domain name options, such as nameservers. You would need to do that if you wanted to transfer your domain to a new host or domain registrar.
When selecting a domain registrar, you might also need to be on the lookout for additional charges. For new applications, some domain registrars may be offering discounted domains. However, the renewal cost of the domain is frequently quite distinct and even higher, but most beginners are unaware of this.
Top Domain Registrars to Buy a Domain Name for Political Organizations
You can avoid future problems by selecting the appropriate name registrar. Switching your website to a new host or service provider makes it simple and helps you secure your brand name. The best domain registrars to purchase your domain name from are listed below.
One of the most well-known domain name registrars on the planet was founded in 2000 and is called Domain.com. All top-level domain name extensions (TLDs) and numerous country-code top-level domains are available for registration. (ccTLDs). You can conduct a fast domain search on Domain.com to find potential domain names. You can find premium names in their search results as well.
All the domain administration tools that you would expect from a top domain registrar are available to you, including bulk registration, private registration, whois privacy protection, free whois, easy transfers, easy DNS management, email accounts, email forwarding, and other extra services. If you want, you can even buy site hosting from them.
The well-known name registrar Namecheap provides many domain extensions, including the .vote domain. Since its founding in 2000, the business has expanded to rank among the top name registrars worldwide. Political groups on a tight budget will find Namecheap's affordable pricing especially appealing.
Additionally, they provide premium DNS and name add-on services like domain privacy. Although their domain management area is clean, GoDaddy's new interface is more user-friendly. In addition, Namecheap offers a user-friendly domain administration interface that is simple to use even by users with little technical knowledge. In addition, Namecheap provides free WhoisGuard privacy security along with each domain order. As a result, the public will not have access to the domain owner's details.
One of the biggest name registrars on the planet, GoDaddy offers a vast range of domain extensions, including the .vote domain. The business was established in 1997 and is now well-known in the domain register industry. For more than 20 million clients, they handle more than 84 million domain names. There are many well-liked domain name extensions available from them. Their costs are very competitive, and you might even be able to register your domain for a substantial discount for the first year.
GoDaddy provides a premium Domain club membership with discounted domain prices for business owners. If you are registering or managing hundreds of domain names, this makes logical. You can transfer your domain name, change name servers, update your contact information, handle bulk domain renewals, and customize several other domain settings using GoDaddy's comprehensive yet user-friendly domain administration interface. Other online services GoDaddy offers include hosting, building websites, email marketing, and others.
One of the top domain registrars in the world, Network Solutions has over 7 million domains registered with them. A broad range of domain extensions, including the well-known .com, .net, .org, .biz, .info, and .vote domain, as well as practically all other specialized TLDs, are available for registration.
As one of the largest domain registrars, Network Solutions offers many services, including web hosting, website creation, website security tools, corporate email addresses, online marketing, SEO services, and IT support. They can be your one-stop shop for your online presence if you run a small business. Use their domain name search engine to see all available domain names immediately. Additionally, they show premium domains in their results.
They offer every domain feature you might need, including DNS management, private registration, WHOIS privacy, etc. You can also get a free domain when you buy one of Network Solutions' WordPress hosting options or other website / eCommerce hosting packages.
Bluehost is a certified WordPress hosting partner, one of the world's biggest hosting providers. Additionally, they provide domain name registration as a component of their web hosting service. With the help of the Bluehost promo code, users can get a free domain name, a free SSL certificate, and reduced web hosting, making it the ideal offer for anyone starting a new website. You can start with a new domain name for free and pay $2.75 monthly. Bluehost serves as the web host for several of our small websites. They have a user-friendly interface that is simple for beginners, WordPress is pre-installed, and excellent chat assistance when you need it.
The ability to add unlimited subdomains, malware protection for websites and business emails through G Suite (Google Workspace), and other features are among the many features they have that website owners require. You can always reach them at their 24-hour phone number or use the live chat support if you need assistance.
A fast-growing domain registrar and web hosting provider for small companies, Hostinger. Whenever a web hosting plan is purchased on their website, they provide a free domain name. You get a free domain name, a free business email address, a free SSL certificate to secure your website and other tools for growing your business.
Using WordPress or their website builder, you can quickly and easily create your website with Hostinger. You can also access special discounts. Many knowledgeable teams thoroughly reviewed Hostinger and discovered they provide some of the quickest WordPress hosting and assistance.
Any political group seeking to establish a strong online presence must make the proper choice of domain registrar. Because it conveys the idea of voting and political engagement, the .vote domain extension is an excellent option for political organizations.
Namecheap, GoDaddy, Hover, Domain.com, Bluehost, and Hostinger are some of the best choices for political organizations looking to register .vote domains. Each domain registrar is an excellent option for political organizations seeking to register a .vote domain because they each provide competitive pricing, simple management tools, and top-notch customer service.